Journal
'Creative Reuse' Inspires Accessories
Kaan Hancer
2 MINUTE READ
The creative group secca, and Claude have collaborated to create an experimental series of buckles that plays on the concept of 'creative reuse.' Secca has combined 21st-Century techniques of 3-D technology with traditional
kōgei
(Japanese craft) sensibilities to create distinctive and unique products for the home. Claude, inspired by the beautiful forms of vintage Japanese buckles, approached secca with the idea of using the buckle-form in a variety of 'creative reuses' and to add accents to Claude's silk accessories line. Through their initial brainstorming sessions, Claude and secca found they shared in common the creative principle of starting with traditional
kōgei
values and craft-techniques and then applying them in the context of cutting-edge manufacturing.
The Buckle Collection
developed first, a series of scarf rings (accessories which enhance ways of wearing scarves) which experiment with using remnant plastic materials like cellulose-acetate. For the collaboration, Claude and secca played with combinations of resin and remnant wood from unexpected sources which give the buckles an added infusion of soul. For example, one of the wood remnants used is from a dismantled
Edo
era house, another is recycled compressed Japanese cedar.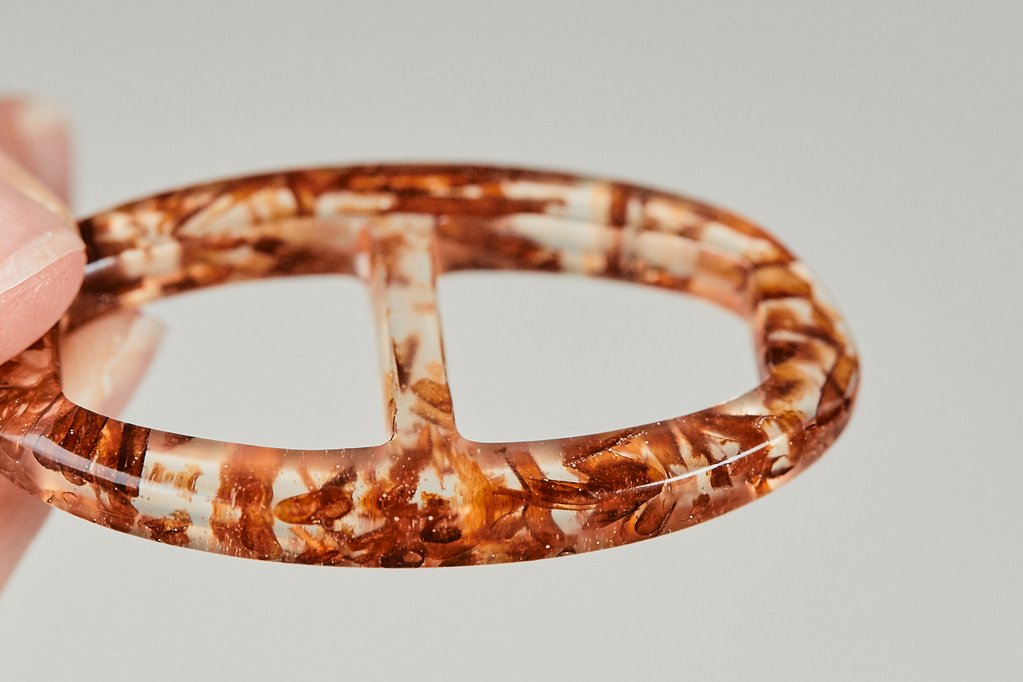 The buckles are made by hand, capturing the wood in resin, then cut and polished. This process allows the buckles to reveal different textures and visual effects providing each buckle with its own unique character. In this way, our buckles are a kind of "modern amber" or "new
kōgei
" which fits with secca's mission of creating "new values" for manufactured products under the concept "future crafts."
Claude Buckles are repurposed for a variety of uses and to add accents to our silk accessories. Various buckle sizes are paired with different scarf styles so you can personalize your own look. Create a tailored look around the neck and shoulders, or wear your scarf around the waist as a belt. You can discover other creative ways to wear our buckles for the wrist, ankle, or head; adding personal accents to your style.