Journal
Japanese Manga Enters Claude's Design World
Kaan Hancer
3 MINUTE READ
When Claude was approached by a consultant for Cheero, a well-known brand of electronics and mechanical parts maker in Japan, we could have never guessed why. However, it was good fortune for Claude's designer, a tech otaku (geek), and a fan of Japanese pop-culture to be asked to create a design on "Danbo."
Danbo? 
People from many corners of the globe are familiar with Danbo by now; an Internet meme and hero of many photo shoots one of the most noted being, "365 Days of Danbo" by Arielle Nadel. However, to fully appreciate this collaboration between Claude and Cheero and the resulting creation of their mobile battery, it's important to know the origins of the Danbo character.
Danbo (ダンボー, "cardboard") also known as Cardbo in the English translations, is a character who appeared in the Japanese manga comic, "Yotsuba&!" by Kiyohiko Azuma. The story centers on a lively and quirky five-year-old adopted girl named Yotsuba Koiwai. Her naïveté is the premise of many humorous stories whereby she learns about — and frequently misunderstands — everyday things she encounters, including Danbo (who enters in Chapter 28). This is when Yotsuba's friend Miura creates a "robot" costume out of cardboard boxes for a school project, but the 5-year-old Yotsuba is adamant it's not her friend, but a real robot.
The series focuses on the daily life of the characters and Yotsuba's journey to uncover life's mysteries. While there is no consistent plot, the tenor of the series can be summarized by a phrase used on chapter title pages and also in advertising: "Today is always the most enjoyable day" (いつでも今日が、いちばん楽しい日, Itsudemo kyō ga, ichiban tanoshii hi), or in the original translation, "Enjoy Everything".
The reasons for Danbo's success and why its popularity spread to make Danbo an endearing and much loved character in Japan is because Danbo is cute, accessible, and familiar. The love for Danbo is universal because Danbo is simple (made of cardboard). Anyone can make Danbo and therefore everyone can love him. Danbo became so popular that he left the pages of the comic and now exists in action figures, costumes, electronics and even Japanese condoms!
So how did Claude and Cheero come together in their creation? To quote Claude: "The simplicity of this character was like an empty canvas. Danbo is a plain cardboard box, so anything is possible … I used all of sides of the mobile battery casing and treated Danbo like the Japanese would a precious objet in the true tradition of lacquerware and kin-maki-e (gold powder craft)."
Claude then asked a well-known craftsman of kin-maki-e, Masatoshi Kobayashi based in Yamanaka, Ishikawa Prefecture, who is recognized for excellence in the craft, to apply their designs and demonstrate the technique's process.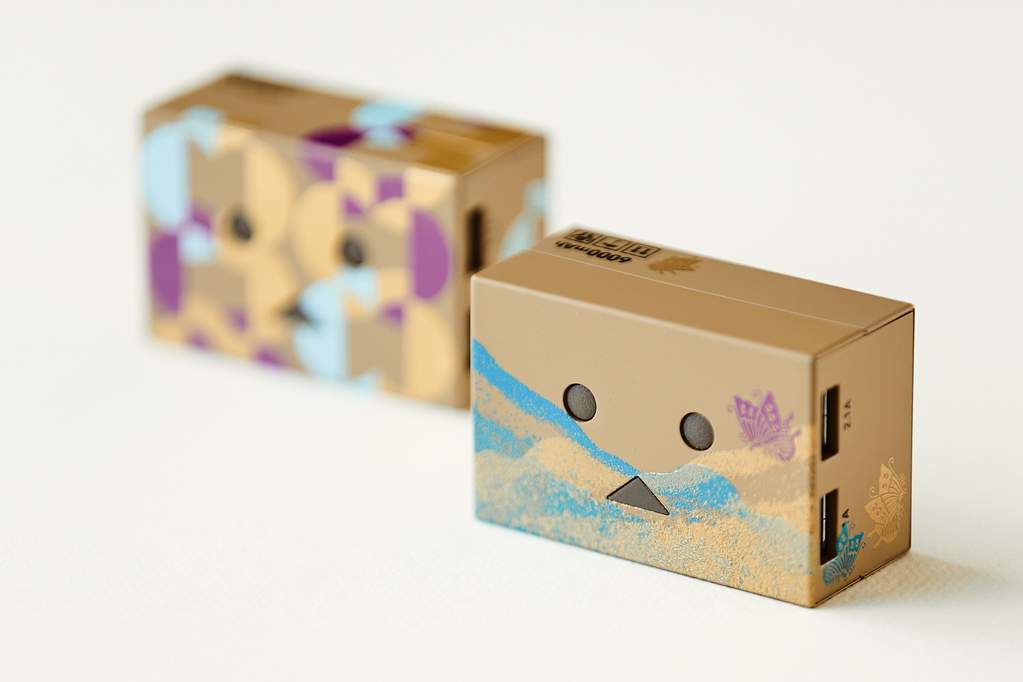 The two resulting designs were surprising. Says Claude: "The usual approach in electronics design, especially mobile batteries, is to blend into or match with other electronics. In this case, we wanted our Danbo to be the focus when charging, being used or when not in use at all. If Danbo is in our presence it should bring pleasure and wonder in the true spirit of the character."
Graphics design by Claude for Cheero, ©KIYOHIKO AZUMA/YOTUBA SUTAZIO. ©TRA CO. LTD. All Rights Reserved.